© DJ Johnson October, 2005

That DVD was really unique. Great musicians, amazing look to the footage, the presentation was very nice.

Moving in Stereo © Darren Paltrowitz March 20, 2005

…From The Screen
Lee & Margaret Pine Chabowski have hit on something pleasantly nostalgic with The What Goes On! Show. A 43-minute DVD that describes itself as being "like a mix tape from your best friend," What Goes On is an Ed Sullivan Show-esque variety program spotlighting 10 New York musical acts performing in a gimmick-free setting. As there are few effects or tricks for the artists to hide behind, the Chabowskis aim (and successfully achieve) for the angle of "what you see is what you get" and still manage to make it entertaining. You can find out about future "episodes" at www.whatgoeson.tv…




© DJ Johnson March 17, 2005

"The antidote to mainstream pop videos," it says right here on the box. This is the first in a planned series of DVDs that feature live performances by unknown New York bands, playing before only the camera crew on a sparse set that is all about lighting and space. Between the visual effect that creates and the unusual nature of some of these acts, the overall result is a little like watching a talent show on acid. Luckily, the talent is quite good, for the most part. Chris Moore opens the show on acoustic guitar, performing a clever song called "Tumbler," and he shows up twice more on drums with two other bands. Busy guy, that Chris Moore, and talented, too. While the show tilts heavily toward the singer/songwriter style, there are a few hot bands you might have missed without this DVD, including The Hi-Risers, an excellent trio who perform a cool and powerful instrumental surf/spy tune and then segue right into a 60s-esque pop number that turns out to be the show's theme song. Fans of all things quirky will love Curtis Eller, who performs solo on banjo and vocals and moves around the stage in a bizarre way, something like a cross between Buster Keaton and Harold from The Red Green Show. There are a few semi-clunkers, but even they at least have something fresh and unique going on. All the performances are bridged by strange little bits that set up the next band. They certainly went all out and had some fun, from the look of it. Bands are introduced by a tormented patient in a dental chair, a woman at a subway platform hurrying to get the words in as the train rolls away, and even the director's landlady, who has just dropped some laundry from the clothing line out her window. What Goes On, the company, is just getting started, but this is already better than a whole lot of what's clogging the music DVD market these days. Not top notch as of yet, but worth having and worth being aware of for future releases.



John Donohue November 1, 2004

Crash Mansion199 Bowery at Spring St. (212-982-7821)-Oct. 29:The banjo player Curtis Eller, the singer-songwriter Pete Galub, the rock band Skyrocket, and other New York City-based musicians celebrate their contributions to the release of the DVD "What Goes On!", a musical variety show with a slow-paced mid-twentieth-century aesthetic.



Andrew Aber November 2, 2004

WHAT GOES ON!
Crash Mansion 199 Bowery. A party celebrating the release of Lee Chabowski's new DVD, an update on the old Ed Sullivan show, What Goes On! No Beatles, but performers include Chris Moore, Skyrocket, Dina Dean, Curtis Eller, Miché, New Delhi Monkey Man, Chandra Oppenheim, Pete Galub and the Annual, and Bill Pierce. At 8:30.



Michelle Picardo November 10, 2004

Rochester alumni, Lee Chabowski, known in these parts for his work in the late 80's with bands like The Resisters and Dog's Life, is still making music in his latest band, New Delhi Monkey Man, but it's his new project that had our office rocking this week. Now wearing his director's hat, Chabowski just released the DVD he calls "the antidote to mainstream pop videos," "The What Goes On! Show" is a clever take on the musical variety show (think a cooler version of The Ed Sullivan Show), and showcases an assortment of emerging or underground artists, with stand-outs including NYC band, Skyrocket and singer, Chandra Oppenheim, as well as area favorites, Miché Fambro and The Hi-Risers, as well as a song from Chabowski's own Monkey Man. With recent write-ups in The New Yorker, The Village Voice and Time Out New York, The What Goes On! Show promises to "introduce you to your next favorite song" and features inspiring performances from the artists, with wild segues and mini-skits between tracks. Catch a screening of The What Goes On! Show at the DVD release party at The Montage Grille on Saturday, November 20th, with live music from The Hi-Risers, Bill Pierce, Chris Moore, New Delhi Monkey Man and more...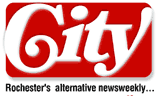 Frank De Blase November 17, 2004

ROCK FILM
If you took away all the glitz, schmaltz, pyrotechnics, and cleavage from a music video today, you'd be left with nothing --- nuttin'.

What Goes On! is a new variety show DVD that brings back the importance of the song in a series of no-frills performances and introductory skits like those from classic television.

Ex-Dog's Life guitarist Lee Chabowski and his wife Margaret have produced an ultra-cool program to showcase artists who, by choice or by fate, are considered underground. Featured artists like The Hi-Risers, New Delhi Monkey Man, Miche Fambro, Bill Pierce, Chris Moore, and Chandra Oppenheim appear on the DVD and will play the Rochester debut celebration of What Goes On! after a screening of the film Saturday, November 20, at The Montage Grille, 50 Chestnut Street, at 8 p.m. Free. 232-8380.



Jeff Spevak November 19, 2004

Imagine The Ed Sullivan Show, minus The Beatles and the adorable mouse Topo Gigio, but with really hip acts. That's What Goes On! The DVD is the brain monkey of Lee Chabowski, who presents some of the acts—including the Hi-Risers, Miché Fambro and Chabowski's band, New Delhi Monkey Man—at 8:00pm Saturday at Montage Grille, 50 Chestnut St.
Chabowski, formerly of Rochester's Dog's Life, chose four bands, five solo acts and one duo to feature on the breezy, 43-minute DVD; each is introduced by a short skit, followed by a live performance on a simple, brightly lit stage. There aren't any of those herky-jerky, video-manipulation tricks; the focus is completely on the musicians, whose music must do all of the work. Sharp-eyed viewers will catch a brief glimpse of Scott Coblio, better remembered as the old Rochester favorite Koo-Koo Boy, in one of the skits.
The bands start at 8 p.m.; the DVD will be screened at 10 p.m. And it's free.